We have had some stress and issues around the house lately. Alin has seemed angry and isolated. This is so unlike her. Usually she is robust and smiling and stubborn. Yesterday it seemed to reach a flashpoint. She told me she felt bad inside. And had felt bad for almost a week.
Seems it was a mix of health issues and being genuinely sick. She vomited one day after being out. Then she told me she had chills. We decided to wait and see if she could rest. She was so tired. Last night was being up taking care of her. Could have kicked myself for not going to a pharmacy. She needed some cold and flu meds. This morning I walked to three different pharmacies. The last one was open. Solution achieved. Panadol received.
Going to go
We also talked about going. Alin feels some of her malaise is we have not been away together. I think June was last time. That was the trip to me. It just seemed like all engines fired. We did beaches, waterfalls and rivers. Mangrove jungles. Most of all priceless time to sit and share. See her with this smile. This one that lights my world up.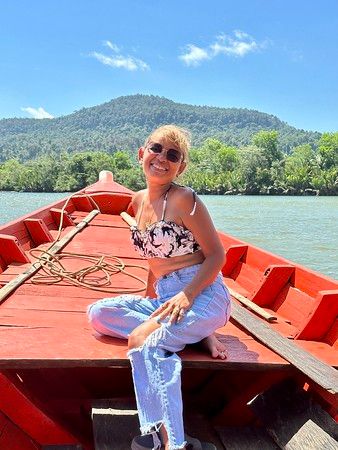 I want more of that. I admit to selfishness and desire. So we planned a new place in Cambodia I have not been. A new beach. A place we can reach rather easily. A bungalow. Time. Food. Cold beer.
Our time going to go is in October. This month we must pay some bills and my year long visa extension needs to be extended again. I want new walking shoes. I want to take my wife out for dinner. Hold her hand. Step away. So October will come. And we will go.
Going to just go.